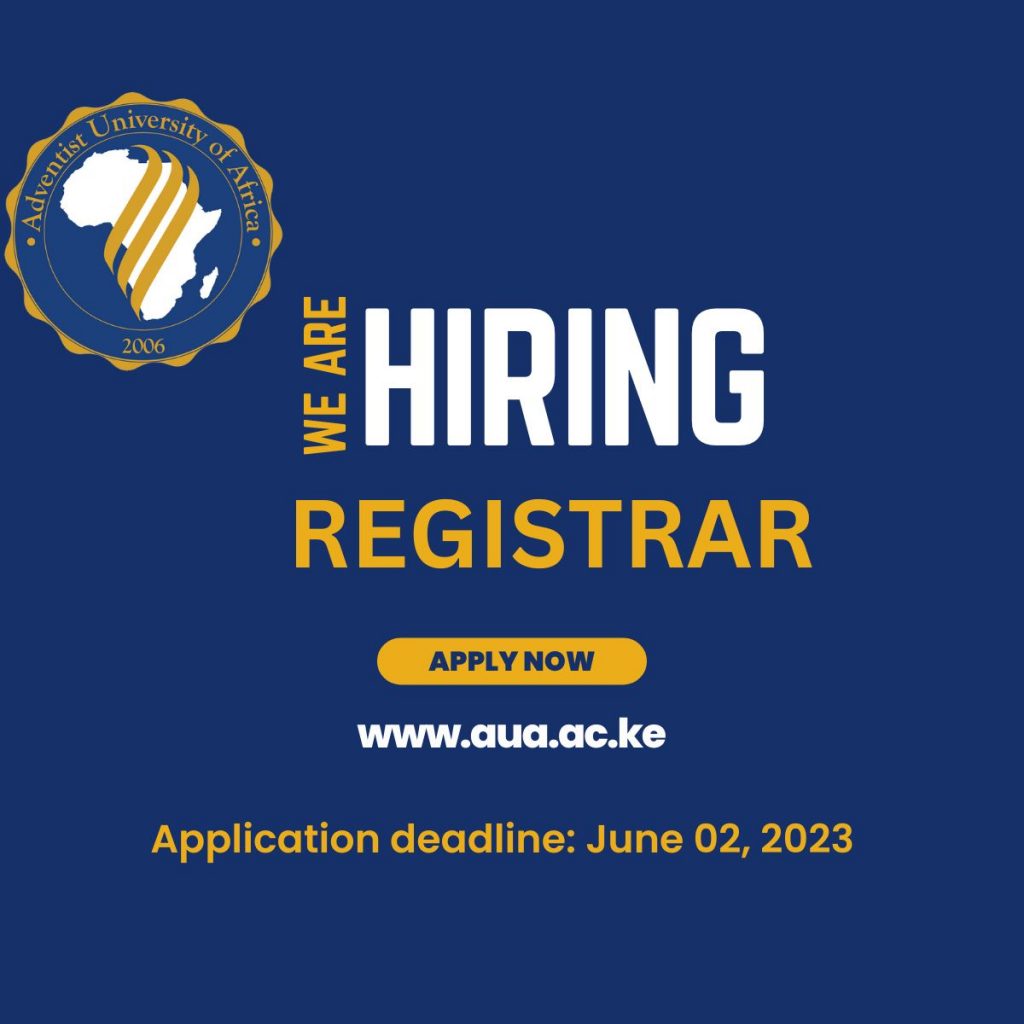 JOB VACANCY – REGISTRAR
Adventist University of Africa is looking for a dynamic, self-driven and result oriented
professional to fill a vacancy for the position of Registrar. The successful applicant should be
willing to take up the position as soon as possible.
About AUA
Adventist University of Africa (AUA), a Chartered University of the Seventh-day Adventist
(SDA) Church based in Nairobi, Kenya was established by the General Conference of SDA to
provide postgraduate education in Theology, Business, Public Health, Applied Computer
Science and other fields. The University seeks to deliver outstanding postgraduate education
from a Biblical foundation to prepare competent leaders to serve the Church and society in a
Christ-like manner.
Qualifications and Skills Required
A Master degree in a relevant field from a recognized and accredited university. A
Doctoral degree will be an added advantage.
Have knowledge and experience in the formulation and provision of guidelines on
administration, planning, management of University services and academic matters.
Attendance of a Senior Management or other professional course lasting more than four
weeks will be an added advantage.
Have proven qualities of leadership, coordination and organization at senior
management level.
Be an active member of at least one recognized professional body.
Be computer literate with demonstrable practical experience.
Required Work Experience
Minimum of four years' experience in a senior position at the Registry Department.
Experience with university/ post-secondary student records, admissions, registration,
confidentiality, and records management requirements, and policies.
Understanding of technology applications related to records, data management
processes and university management information system are highly preferred.
Work experience in an educational environment.
Experience working with an international, or culturally diverse, student body.
Summary of Duties and Responsibilities
Assist in the formulation, evaluation, revision of policies and regulations of the institution.
Interpret and enforce academic policies and procedures of the University.
Plan, develop and formulate all activities related to admissions, enrolment records,
registration of students, processing of results and certification.
Protect and oversee the integrity, accuracy and security of academic records, production
and issuance of official academic transcripts and original certificates; keep the information
confidential.
Provide direction and intervention for students in crisis or disputes related to admission,
records, registration, grades and certification;
Ensure students' satisfactory fulfilment of graduation requirements and recommend them
to Senate for approval.
Supervise production of degree certificates and transcripts.
Prepare and submit periodic reports of students' and graduates' statistical data as may be
requested by the university Administrators, sponsoring organizations, accrediting bodies
and other government agencies in Kenya.
Partner with other University Registrars and Examining Boards to verify certificates and
transcripts as necessary.
Custodian of academic information, records and regalia.
Facilitate professional development of the Registry staff.
Method of Application
Applications should be submitted with certified copies of academic qualifications, portfolio
detailing academic qualifications, work experience, research, publications, and family data.
Application Deadline: All applications with supporting documents should be submitted
electronically to Human Resources Office by June 02, 2023, using hr@aua.ac.ke and copy
dvca@aua.ac.ke.
Only qualified applicants will be notified and invited for an interview.