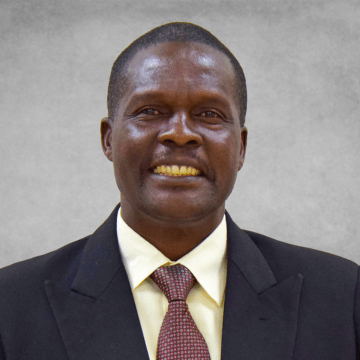 Mahlon Juma, PhD., BCC., ChD.
Program Coordinator, Master of Chaplaincy Lecturer, Applied Theology, Theological Seminary
Biography 
Dr. Mahlon Juma is an ordained minister of the Seventh-day Adventist church for 26 years and has worked and studied in Uganda, Kenya, and the Philippines. He's been the Director of Correctional Chaplaincy, Public Campus Ministry, Hospital and HIV/AIDS ministry, and of Communication and Radio ministry in Uganda. He was a Resident Pastor and strengthened the AMiCUS/PCM branch at the University of the Philippines, Diliman, which is now an organized church in a secular premier University. He is Vice-Chair of the Professional Association of Chaplains in Kenya. He heads the Strategic department of the Kenya Universities Professional Counselors' Association. He is a seasoned chaplain. He's a Board-Certified Chaplain, a Full CPE Supervisor, and a CPE Educator at the Adventist Chaplaincy Institute in Silver Springs, USA.
Dr. Juma is married to Betty. They have a son and two daughters.
Education
Chaplaincy Diplomate (ChD), Clinical Pastoral Education, Clinical Pastoral Education and Care Foundation, Inc., Asia Association for Clinical Pastoral Education, 2023

PhD in Psychology, Adventist University of the Philippines, Silang Cavite, Philippines, Magna Cum Laude May 2021

MA in Counseling Psychology, Uganda Christian University, Kampala, Uganda, May 2007
MA in Educational Administration and Management, Kampala International University, Kampala, Uganda, May 2004
Areas of Expertise
Clinical Pastoral Education (CPE) Supervision
Certified Life Coach and Mentor
Trainer of Trainees, My Journey to Recovery for Addictions and Emotional Catharsis
List areas of research interest
Psychology and Religion
Chaplaincy issues
Zoology
Music